The Etheridge Fosters Need Help!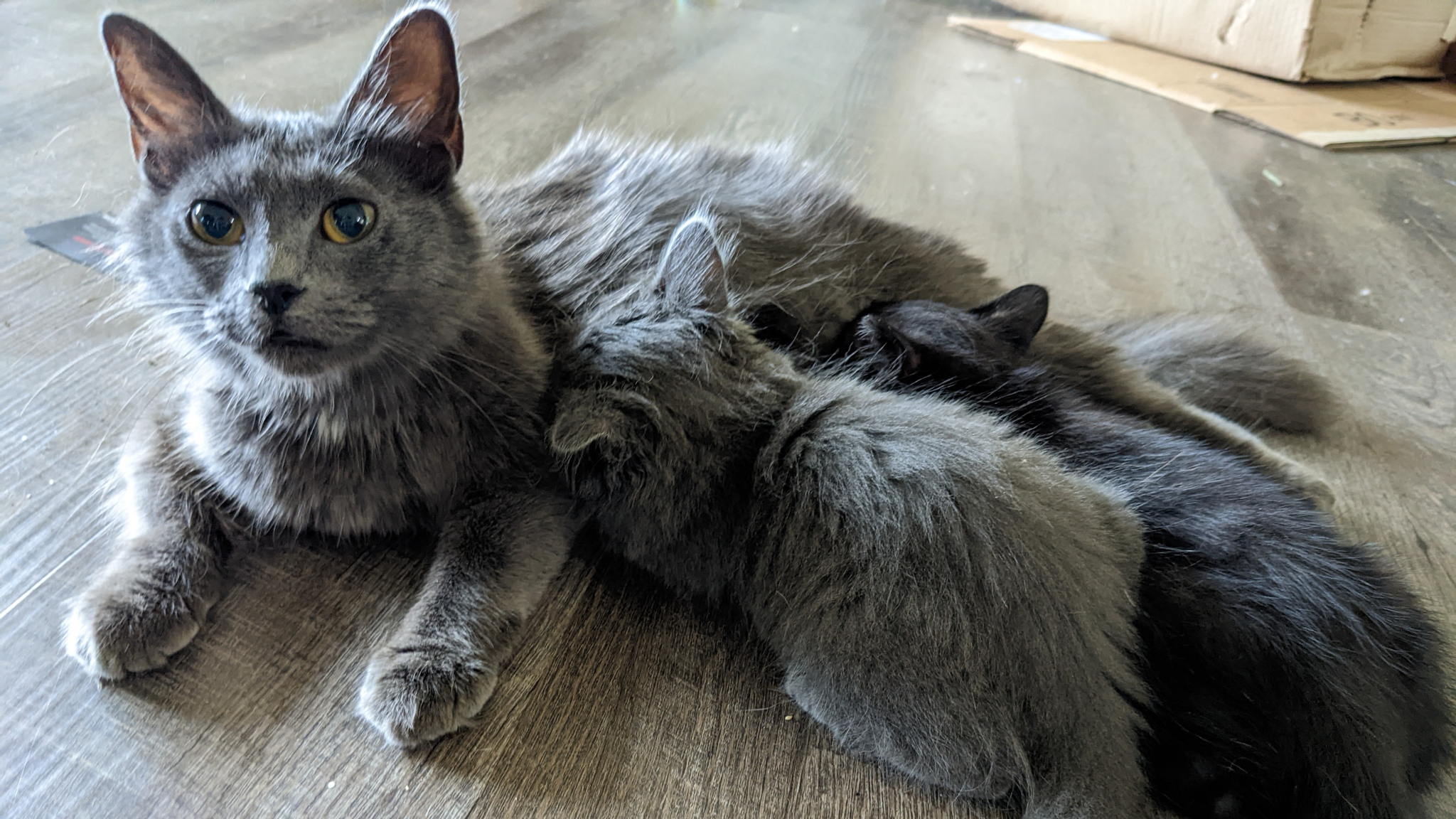 Our foster cats (Judy Garland, Queen, and Queen's four kittens) are sick. Medical bills are massive!
$2,680
raised by 35 people
$2,000 goal
Champ's Expensive Vet Visit
Little Champ just finished today's vet appointment. The good news is that it's done. The bad news is that it was an extremely costly visit. The PCR test, the visit itself, and some fancy new medications all added up very, very quickly, and I had to adjust the fundraising goal.
Carl was the one who took Champ to his appointment. He says that the swab for the PCR test was horrifying. The vet tech had to swab the tissue around Champ's eye. The tissue started bleeding, and Carl has never heard a cat so angry before. I'm sure it was excruciatingly painful for poor Champ, especially since his eyes are already so inflamed and tender. And yet, for the rest of the visit, Champ was purring and loving on Carl and making biscuits. He's the sweetest boy, even when he's sick. I really hope that he starts to improve soon. We should get the results from the PCR test in about a week.
I cannot possibly thank those of you who have donated enough. These six foster kitties mean the world to me. They don't deserve this illness. We're going to keep caring for them, though, until they all feel better.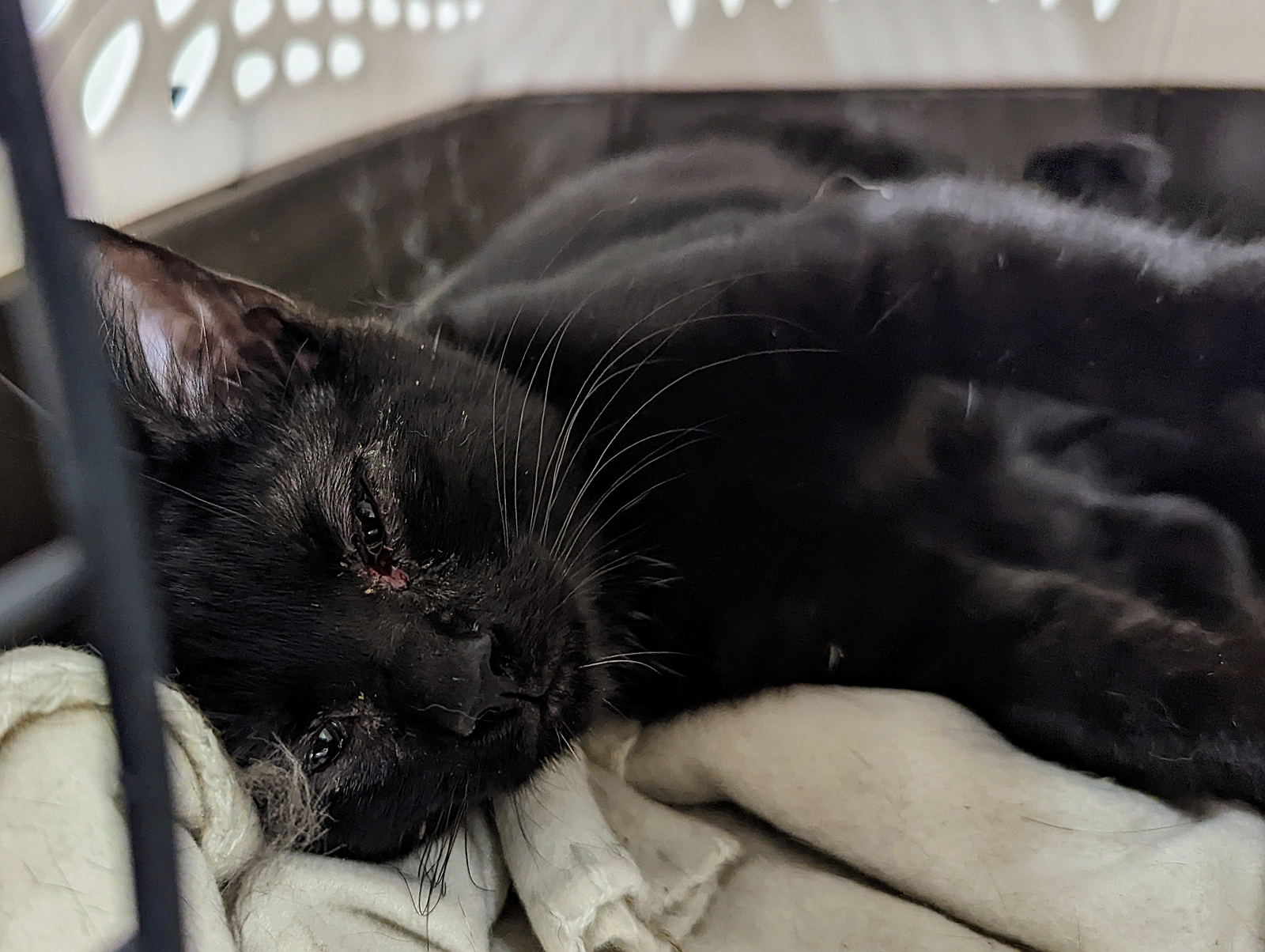 The Etheridge Family is currently fostering six cats through Dallas Pets Alive, and these poor felines have faced many, MANY health issues since coming into DPA care. The first, Judy Garland, arrived in early June when she was extremely pregnant and very sick with a serious upper respiratory infection. She went into labor less than 24 hours after arriving on Etheridge Farm. Sadly, due to her poor health and despite heroic efforts from the humans in the house, none of her babies survived more than 48 hours. Judy herself was so sick that she required subcutaneous fluids pumped into her multiple times per day and tons of medicine, and she had to be force-fed just to get calories into her weak body. She recovered, though, and became the sweetest little angel cat.
A week after Judy's arrival, Queen and her four kittens, her Greatest Hits, arrived on the farm. The babies were only two weeks old. Queen was only ten months old: she was a teen mom! Even so, she was a fabulous mom who took great care of her babies. Unfortunately, medical issues plagued this little family, too. It started out when they all came down with ringworm and required weeks and weeks of treatment to try and squash the fungus. Later, one of the kittens, Radio Ga Ga, caught COVID and nearly died! Things were looking up for this little family, though, and adorable Queen and her friendly babies seemed like they were out of the woods.
Then, on August 8th, Judy Garland began sneezing. Within a few days, the whole clowder of cats and kittens had the sniffles. They went to the vet for the first time and started antibiotics. Things seemed to improve, and on August 25th, the four kittens headed to the vet for their spay/neuter appointments. Unfortunately, the vet noticed that the babies were still sneezing, and surgery wasn't possible at that time. The Etheridges were instructed to start the whole clowder on a second round of antibiotics. This time, there was no improvement. In fact, the six cats started getting worse. On September 6th, there was a third vet appointment and a new type of antibiotic plus two antivirals... but no luck. The cats continued to deteriorate. We Are The Champions, more commonly known as Champ, was by far the worst off. He was so congested he could barely breathe. His eyes were inflamed and goopy, and his face was covered in snot. Worst of all, he had started foaming at the mouth. On September 11th, he was rushed back to the vet along with Queen. Champ needed steroid infections for a few days, and the whole clowder started on yet another antibiotic, this one delivered via nebulizer. This time, things started to look up. Champ got past the worst of his infection. The nebulizer antibiotics were gone on September 15th, so Champ went back to the vet for a fifth time. He started on a new oral antibiotic, but progress stalled.
That weekend, the Etheridges' three resident cats finally started to show symptoms of the same illness plaguing the six fosters. On September 19th, exactly six weeks since the whole saga began, the resident cats went to the vet. Upon examination, the vet discovered telltale lesions inside these three cats' mouths. At long last, there was a diagnosis for the illness raging through the house: calicivirus. 
However, the vet said that Champ is too sick for the issue to be calicivirus alone. Champ will now need to go to the vet for a sixth time in order to get a PCR test for other pathogens. He almost certainly has a secondary infection making him so ill.
The foster cats should all recover, but their medical bills have been intense. Please help DPA cover their care. Best of all, DPA says, "Donations of $10 and more will be amplified by the Communities Foundation of Texas. This year a group of our most dedicated and thoughtful supporters have provided our match funds of $50,000! So your $100 donation becomes $200! Be sure to give early to make your gift double this year before our challenge funds run out!"
Thank you so much for your support. The Etheridges and their foster kitties appreciate it.