World Affairs Council of Dallas/Fort Worth
Mission Statement
The mission of the World Affairs Council of Dallas/Fort Worth is to provide relevant information about global issues, challenges and opportunities while establishing North Texas as a center for international interests and business.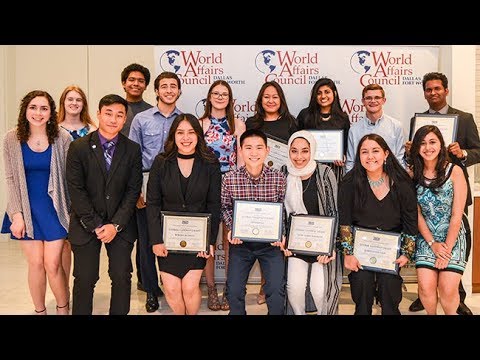 FUNdraising Pages
Want to do more for your favorite charity? We've made it easy for you to raise money by creating a personalized FUNdraising page.
View all FUNdraising Pages
The Council accomplishes its mission through several initiatives: (1) presentation of more than 90 public events annually that feature authoritative voices in international business, politics, diplomacy, human rights and culture; (2) managing the Office of Protocol for the City of Dallas; (3) coordinating U.S. Department of State-sponsored exchanges to North Texas through the International Visitor Program and (4) the Global Young Leaders education program for North Texas high school students.
"[Participation in the Global Young Leaders education program] has shaped me as a person and has been the most influential factor in guiding me toward my career goals. Before, I had ambition but no direction. Through this organization, I have had a chance to find my drive and the skills needed to make my dream of helping others a reality." -Jordyn Galvan, Senior at Berkner High School

"I think the easy access to information globally makes an organization like [the Council] all the more important. Without the capacity to put the pieces of the global puzzle into perspective, the impressions, the opinions, the conflicting narratives, from around the globe become so much noise as opposed to something that's clarifying and can actually help us figure out our role in the world." -Jon Meacham, Pulitzer Prize winner and #1 New York Times bestselling author